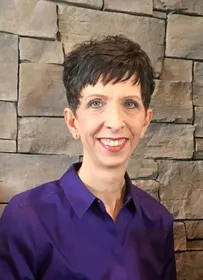 Dr. Nancy Hinders
Dr. Hinders joined Canyon Chiropractic in 1989 after graduating from Parker College of Chiropractic in Dallas, Texas. For 15 years she worked with her father Dr. Robert M. West, who opened Canyon Chiropractic in 1964. Dr. Hinders has been involved in several community organizations through her time in Canyon, including Kiwanis Club and the Chamber of Commerce. She is a member of the Texas Chiropractic Association, American Chiropractic Association, and Parker Alumni Association.
One of her greatest rewards over the years has been helping families, helping them as they grow, whether they are children, parents, or grandparents. When you help a person who is hurting or sick, and improve their health, you help the entire family.
Dr. Hinders is married to Neal, the owner of Canyon's Edge Plants. They have two adult children.